A Kaleidoscope of Options: How to Choose Interior Colors
---
Step into any home improvement store and it's easy to get overwhelmed by the thousands of paint chips on display. A veritable rainbow of colors is at your fingertips. How do you choose?
Kathie Titus, a local interior designer, helps Dakan Homes stage properties for photoshoots and helps dozens of other clients choose interior wall colors. First, she finds out what colors they are drawn to—and perhaps more importantly, which ones they dislike. Once the palette of available colors is whittled down, she helps them select colors that complement each other.
"I help steer them in a direction, but if they aren't sure about which colors will work, we take small steps to introduce color to the home," Kathie explains.
Gray is Still King
A neutral color, gray continues to be popular nationwide. At the Jersey Shore, Kathie says shades from Sherwin Williams' Coastal Cool collection are also popular. Many Dakan Homes' customers choose Light French Gray or Rainwashed, often using one color throughout the main living areas for continuity. If you're looking to break away from gray, paint manufacturers named navy blue this year's hot hue, says Kathie.
Danielle Mazzola pairs "traditional coastal" Benjamin Moore paint colors with the natural wood floors in her Dakan home.
"I've used Benjamin Moore paint for years," she says. "Some of my go-to favorites are Muslin, Revere Pewter, Classic Gray, Pale Oak and Gray Owl."
Her favorite room is her bedroom, which features Pale Oak paint, a beautiful white shiplap wall behind the bed, and stylish coastal furniture.
The Return of Wallpaper
Wallpaper is making a resurgence as a wallcovering option, but not as you may remember from the 70s.
"Wallpaper is making a big comeback lately, but it's gotten an upgrade," Kathie says. "It's peel and stick now, so no more scraping it off your walls when you want a change."
Danielle is looking into wallpaper to spice up her home office: "I don't want to wear out the shiplap look, so I'd like to try something new," she says.
Other Way to Bring in Color
Not ready to paint your walls aqua? A popular option is to pair neutral walls with colorful cabinets, floor tiles, backsplashes, or granite for a pop of color. While white kitchen cabinetry is still very popular, some homeowners are opting for cabinets or islands in colors like navy or seabreeze, a soft minty green. Instead of white or gray granite, try in fantasy blue quartzite, or add color with geometric floral or blue-washed wood-look tile on the floor.
Tips for Choosing Paint
In general, light colors make rooms look larger, while darker colors make them look smaller. To test a color, Kathie says to paint a sample patch behind a door, let it dry, then view the swatch in the morning, at noon and at night to see if you like it in natural and artificial light. Try downloading Sherwin Williams' ColorSnap Visualizer app on your phone to test colors in a space, or take a photo of an object you're looking to match to find the corresponding paint color.
Whichever colors you choose, Kathie recommended using flat paint to hide any imperfections, such as nail pops or spackled areas. For children's rooms, choose washable paint in case they unleash their inner Picasso on the walls.
Kathie Titus is the owner of P & K interiors, a company that specializes in home design and staging.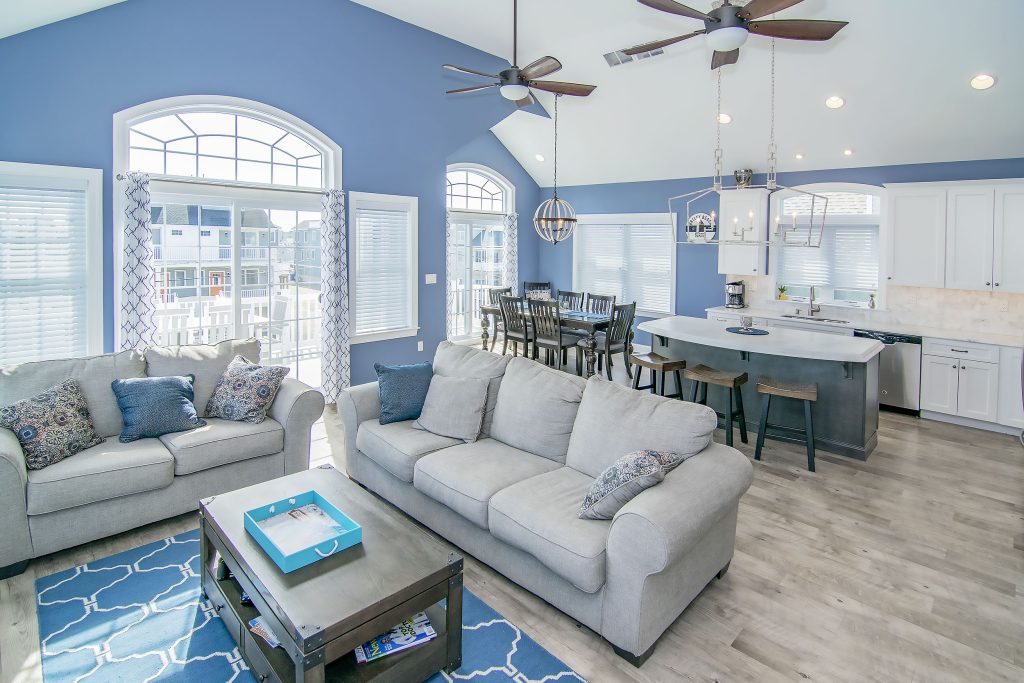 ---