8 Tips for Designing and Organizing Your Home Office
---
Some of the biggest companies in the world were launched in people's homes. From Amazon and Hewlett Packard to Yankee Candle and Nike, home is where the start is for many businesses. And while you may not be an entrepreneur poised to launch a multimillion-dollar company, you still deserve a work-from-home arrangement that's both practical and inspiring.
When I'm not in the Dakan Homes office, I work either at the kitchen island or third-floor bonus room in our house in Ortley Beach. While I prefer working in the office—and leaving my work at the office at the end of the day—there are times that I need a productive space at home. Here are some tips for designing your own at-home office.
Questions to Ask Before Designing Your Home Office
The design of your home office will impact your productivity and energy, so start this project by asking yourself a few questions that will guide your decisions.
Do you need space to meet with clients?
How much desktop space do you require?
How much storage do you need?
What are your printing requirements?
Do you need quiet or do you need to be close to the rest of the family?
Do you need a clutter-free, quiet location for video calls?
How much time will you be on the phone?
Do you need to access files, books, product samples, or other materials frequently?
Do you need to ensure other members of the family leave your "stuff" alone?
Find Your Purpose
Next, think about the purpose of your home office. Will you be working at home every day or just periodically? If you're a busy parent, your kitchen table or a desk tucked into a corner of a bedroom can work, but moving your stuff off the table every night can get old quickly. Do you need a dedicated space, or can you work in a dual-purpose room that's part home office, part guest room?
Think about the acoustics in your house, especially if you have a busy household with lots of comings and goings. To minimize distraction, place your office away from loud spaces like the living room and kitchen. If you're on calls all day, you'll want a space that's away from the daily flow and distractions of your household, like a third-floor room, garage conversion, or loft space. If you choose a remote location in the house, make sure you can get an adequate Wi-Fi signal and that the temperature of the room is comfortable. And if you're meeting clients in your home, you want to choose an area that's close to the entrance and away from the rest of the house.
Ideally, your office should be free from work-time distractions and have a door—features that make it easier to balance work and life. If you don't have the space to dedicate a whole room solely for your office, get creative by repurposing an existing small space, like the corner of a spare bedroom, the end of a hallway, or a nook under the stairs.
Deciding on a Desk and Chair
Consider how much space you have when choosing the best desk for your home office. The desktop needs to be big enough to accommodate your laptop or computer, monitor(s), and keyboard while also giving you enough space to take notes or sort paperwork. Most people find that desks that are about 5 feet wide or larger work well. However, if all you ever need is a laptop, you may get by with a smaller desk. Then, decide what configuration will provide enough space – one long desk, two desks in an L-shaped configuration, or three in a U-shaped layout.
Don't forget about ergonomics. Protect your posture by using a desk that's 28 to 30 inches high. Invest in a high-quality chair that's comfortable, provides lumbar support, and is adjustable. For a change of pace, I like to use a standing desk. It has all of the features of a traditional desk but allows me to type while keeping the blood flowing in my legs. 
Storage for Your Stuff
A cluttered desk can increase stress, sap energy, and lower productivity, so you'll want to balance being tidy with having access to what you need. If you don't have a lot of room but still need to keep items close, a desk with a hutch or bookshelves is a good option. Or, choose storage options that are both functional and stylish to encourage you to keep everything where it belongs. Wooden or metal cube storage is a fun alternative to bookshelves. Floating shelves can be used to get papers and office equipment off the desk.
Develop a filing system to manage paper. Vertical file folders can help keep important papers within arm's reach, or if you like to keep paperwork in a pile, use a cute basket to keep things tidy. If you prefer a clean desktop, designate one drawer for your "to-do" papers. Corral pens, paperclips, and other office tools into a cup or other desk organization tool.
The Lay of the Land
Design your home office in a way that you can access necessary equipment easily and quickly. The desk is typically the centerpiece of an office, so position it in the best possible place. Arrange the desk so you can look at something more interesting than a blank wall. If you have a view of the beach or bay, move the desk in front of the window for added inspiration. If you're in a windowless space, hang a pretty picture across the room or position your chair to face the door. Make sure you allow enough space to work comfortably. In general, professional designers recommend that workspaces measure at least 60 inches wide and 84 inches deep.
Creating a floor plan can help organize your thoughts and make sure you have enough room for everything you need. You can create a floor plan online with the RoomSketcher App. 
Lighten Up
Make sure your office has plenty of light to cut down on eye strain and headaches. Natural light promotes good mental health, helps relieve stress, and can re-energize your mood. Position the computer monitor so there's no glare from the window. Translucent window shades or blinds can help reduce glare. Enhance natural light by adding a mirror and painting most of the walls a light color. A combination of ambient lighting and task lighting will enable you to be productive throughout the day. Use a small, flexible desk lamp for shadow-free task lighting and extra light in the evenings. Soften harsh light with a lampshade and if space is at a premium, pendant lighting can illuminate a room without cluttering it. If you're in a dark area without windows, like a basement, get good quality lighting that not only illuminates the room but your workspace as well.
Read our blog post about How to Choose Interior Lighting for more lighting ideas.
Watch Your Wires
Be sure to arrange your office furniture so outlets are within reach. Yes, extension cords provide some flexibility, but they are a tripping hazard—and ruin the esthetic of your beautiful room! Some desks have wire holders that keep cords out of the way. You can wrap cords on the desk in a fabric cord covers and use tubing to organize cords on the floor. Or, invest in a wireless router, printer, and mouse to reduce the number of wires you need. 
Decorate the Space
Perhaps the most exciting part of this project is decorating your workspace. The style you choose should complement your personality and create a space that's attractive and inspiring. For the walls, you don't have to settle for "business beige." Think about a color that will get your wheels turning, like a cheery orange or lime green, or calming shades like seafoam green or beachy blue. Read our blog post about the hot colors for 2021 for more ideas.
Hang pictures, posters, and décor on the walls. Surround yourself with items that motivate you, like photos of your family, inspiring quotes, a vision board, and other items. It could be a favorite piece of artwork or a collection of shells, driftwood, or other objects. Consider fun textiles or abstract wall art to spark ideas, or if your tastes run more traditional, focus on symmetry and function. Add extra touches that showcase your personality, like a pretty mug, unique notepads, or a decorative wastebasket.
Periodically redesign the space as your needs change or to keep the creative juices flowing.
Take a tour of a few Dakan Homes to see how our customers are personalizing their homes.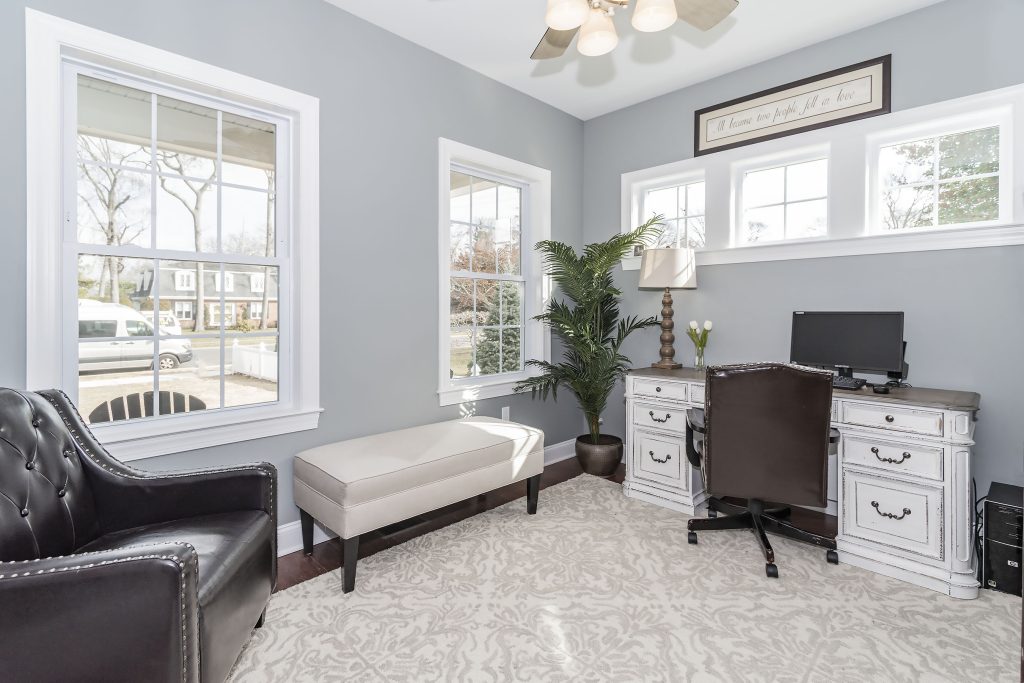 ---
Sources:

https://www.hgtv.com/design/rooms/other-rooms/10-tips-for-designing-your-home-office

https://www.roomsketcher.com/blog/home-office-design/

https://www.thebalancesmb.com/best-layout-designs-for-home-office-makeovers-4157805

https://www.realhomes.com/us/advice/how-to-design-a-home-office

https://www.lumens.com/how-tos-and-advice/how-to-design-the-perfect-home-office.html

https://www.thebalancesmb.com/million-dollar-companies-started-from-home-1794132