11 Tips for Creating the Perfect Outdoor Living Space
Life at the Jersey Shore means spending a lot of time outside. Creating a relaxing, stylish outdoor living are can increase your living space while providing a private oasis for friends and family to unwind. Here are some tips for creating the perfect outdoor living space.
Think about how the space will be used. An outdoor space works best when it doesn't try to be everything for everyone. Just like you planned the layout of your Dakan Home, be thoughtful about the function of your outdoor area. How many guests do you typically entertain?
How much seating do you need?
Do you need a space for a grill or outdoor kitchen?
Or are you just looking for a quiet space to relax and unwind?
Do you need to include an outdoor shower or spray-off area?
Do you need storage space for beach chairs, kayaks, tents, and the like?
Do you need a space for the dog to use?
Don't forget about your feet. Once you decide how your outdoor space will be used, think about where people will be walking and if bare feet are likely. While many yards at the Shore are covered with rocks, it's not your only option. You can mix and match outdoor "flooring" to create an oasis that's both functional and comfortable. Options include:
Pavers, flagstone, or slate
Concrete patio
Decking, either composite or wood
Rocks, pea gravel, or crushed oyster shells
Grass or an alternative ground cover, like clover
Mulch
For many homes at the Shore, a combination of materials will work best. For example, a rustic flagstone patio with scotch moss planted between the stones or an indoor-outdoor rug under furniture on a deck. Design experts suggest using a combination of surfaces with a portion of the yard that's soft and inviting, and some hard surfaces for chairs and other furniture.
Work with what you've got. Space is at a premium at the Shore. Make the most of the views your property has to offer. Create a sitting area facing east to enjoy a cup of coffee while watching the sunrise or place a lounging area to the west so you can nibble hors d'oeuvres and sip cocktails while taking in the sunset. The sight and sound of flowing water can reduce stress and lower your blood pressure. If you've got a view of the water, be sure to highlight Mother Nature. Got a pool or hot tub? Design the space around these focal points to maximize impact. And use hedges or screens to camouflage the things you don't want to highlight, like garbage cans or neighboring properties.

Consider the sun. Which direction your yard faces can define its functionality. If your yard faces west, it may be chilly in the mornings and blazing hot in the afternoon. The reverse can be true with spaces facing east. Be sure to provide areas for sunbathing—and for taking cover from the sun's rays. If there is no roof or overhang above your outdoor space, creating the impression of a "ceiling" can provide privacy, shade, and protection from the rain. Try:
Arbors
Pergolas
Shade trees
Decorative canvas canopies
Awnings
Large umbrellas
Define your space. Continue to add privacy by defining the perimeter of your "outdoor room." Most people find plants more relaxing than hardscape, so consider planting hedges to define the area. If you don't want to wait for hedges to grow, lattice screens are an option. Then, train vine plants like clematis, morning glory, climbing hydrangeas or mandevilla to climb up the lattice. Decorative grasses like pampas grass or fescue are also an option.
Watch the wind. Make a note of the prevailing wind direction and time of day, especially if you are close to the ocean or bay. Some areas may be calm in the morning but have a regular evening breeze. Consider the wind patterns on your property when planning a fire pit or placing a dining table.

Put pool safety first. Landscaping around a swimming pool presents a specific challenge. You don't want people slipping in the area around the pool and, ideally, you want to shield your family and guests from nosy neighbors. "Floors" in pool areas must be slip-resistant, such as textured concrete. A well-constructed fence will provide privacy, and because it has no leaves or needles to shed, there's nothing to slip on or clean up.

Make it low maintenance. The Shore is your place to relax, so choose native, easy-care plantings. Barnegat Bay Partnership's Going Native: A Guide to Landscaping with Native Plants in the Barnegat Bay Watershed helps homeowners choose plantings best suited to growing at the Jersey Shore. Native plants have natural defenses to ward off plant diseases, harmful insects, and other pests. And because these plants are well-adapted to local conditions, they require less water and fertilizer than non-natives and are less likely to need pesticides.
Furnish it, and they will come. The best furniture for your space will depend on its intended use — dining, relaxing, entertaining — or most likely, some combination of all three. Consider the maximum number of guests you're likely to entertain and make sure you have an appropriately sized table and enough chairs. Select furniture that is comfortable, practical, weather-resistant, and washable. Consider small, movable tables for cocktails and snacks. If your deck or patio will be a place for dining alfresco, you'll need chairs that will allow people to sit upright and a higher table to eat at. This is much different from casual lounging spaces, where sofas and low tables are more appropriate. For these spaces, add outdoor throw pillows and soft blankets for ultimate comfort.

Play with fire. When it's cool in the evenings, you don't need to move the party inside. Extend your time outdoors by creating a fire pit or fireplace area with comfortable seating. Electric or gas heaters are also an option and will keep you warm through the late fall. Don't forget storage for blankets and s'mores ingredients!

Set the mood with lighting. Much like designing an interior lighting scheme, outdoor lighting will serve several functions. You'll need to illuminate outdoor cooking areas and walkways for safety. Add decorative lighting to brighten steps and pathways. String lights, traditional or LED candles, and flickering lanterns can help create ambiance. For a more dramatic look, use low-voltage landscape lighting that's barely visible during the day—such as small lights hidden in the trees, mixed into plantings, or wound in pergolas or arbors—and then dazzle at night.
Bring on summer!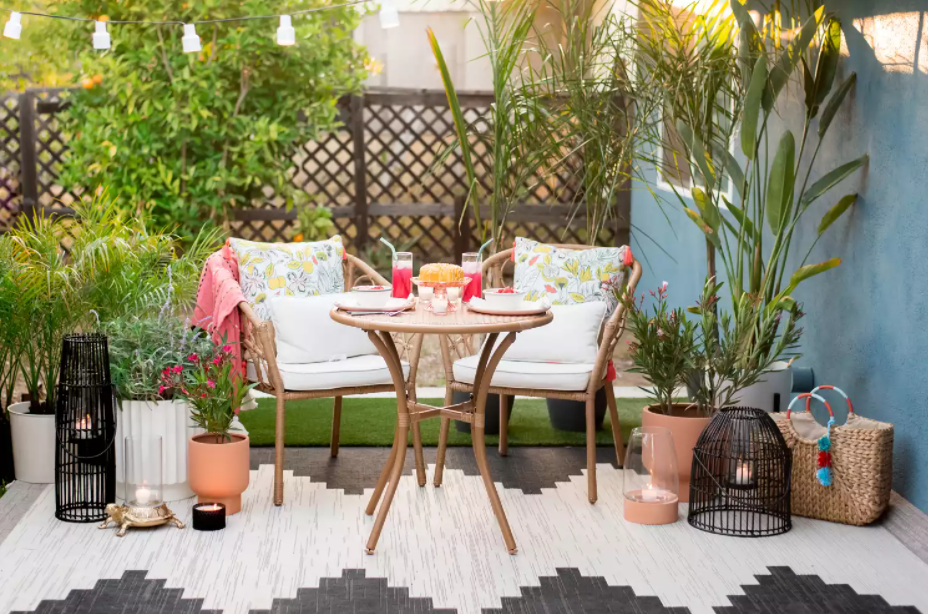 Sources:
https://www.gardendesign.com/outdoor-living/space.html
https://www.hgtv.com/outdoors/outdoor-remodel/outdoor-living-spaces-ideas-for-outdoor-rooms
https://www.nytimes.com/2020/06/23/realestate/how-to-create-an-outdoor-room-california-room-patio.html
https://www.thespruce.com/outdoor-living-spaces-2132387
http://mgofmc.org/docs/vines.pdf
http://www.barnegatbaypartnership.org/wp-content/uploads/2017/08/BBP_Native-Plant-brochure-May2012_six-pgs85x11-forWeb.pdf